Summer Poetry Workshop in San Francisco
with Diane Frank, Chief Editor of Blue Light Press
If you've ever thought about meeting poets from the On-Line Workshop in person, while enjoying four days in San Francisco, you are warmly and joyfully invited to attend the Blue Light Press Summer Poetry Workshop! The workshop combines a writing retreat with cultural events including a hike in Muir Woods, a San Francisco Symphony concert in the park, ethnic dining adventures, and poetry readings. The workshop meets in my home, three blocks from the edge of the continent and close to Golden Gate Park, with expansive ocean views and beautiful sunsets.
We start in the evening on Friday, and meet four days, through Monday. We begin with a meet and greet on Friday night, followed by a Poetry Cello Harp performance (or some version of that, depending on who's in town) and then an open mic so we can all hear each other read. Those of you who are published are welcome to bring your books for the Fireplace Bookstore.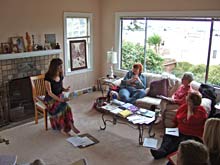 Saturday includes workshops, poetics, the seed idea for the weekend, a writing session, culinary adventures at local eateries, with the evening free to explore San Francisco. For evening possibilities, I will send a San Francisco Vacation Planner.
Sunday opens with free time for writing and walking at the beach, followed by a workshop session. Then we'll carpool or take the streetcar to a local park for a picnic and a free concert of the San Francisco Symphony. We'll gather again in the evening for a workshop.
Monday includes a hike in Muir Woods (beautiful redwood forest across the Golden Gate Bridge) or another beautiful hike in the Bay Area, along with poetry events. The final poetry circle is in the evening. All days have workshops, poetics, a writing session, and culinary outings. Meals will be on your own; however, we will provide snacks and an assortment of teas.
The cost of the Summer Workshop is $400. Enrollment is limited and the workshop fills quickly. (Commitment date is June 1st; no last-minute refunds aside from medical emergencies, which will be considered on a case-by-case basis.) To reserve your place, please contact us.
Family and close friends who are poets and/or who love poetry are welcome to enroll in the workshop. Family, partners, spouses, etc. who are not taking the workshop will be welcome to all cultural, food and hiking events, along with the opening night of the workshop.
See you in July in San Francisco!