Blue Light Press is dedicated to the publication of poetry, fiction and flash fiction that is imagistic, inventive, emotionally honest, and pushes the language to a deeper level of insight. We are all poets and artists based in the San Francisco Bay Area, and our books are artistically designed.
Just Published! #1 best seller!
Pandemic Puzzle Poems, selected by Diane Frank and Prartho Sereno.
This book is a gathering of community. It chronicles our Pandemic Times through the eyes, hearts, and minds of poets. On these pages, you will find poems by Jane Hirshfield, Ted Kooser, Dorianne Laux, Stephen Dunn, Naomi Shihab Nye, Thomas Centolella, Marsha de la O, Terry Lucas, Barbara Quick, Melissa Studdard, Loretta Diane Walker, Marge Piercy, and many more poets who will delight and amaze you – some well known and others who also deserve to be read. Every poem in this book has a gift for you.
"To write a single poem is a selfless act and a minor miracle. In times of trouble
people often turn to poems, and poems often turn into prayers."
– Joseph Zaccardi
"Poems, like birds, are alive. Each one has a heart, wings, and their own song.
Poems remind us, like Kokopelli and the birds, that we too are storytellers,
teachers, healers, and that we too have the ability to sing a beautiful future into
existence."
– Nancy Lee Melmon
Click here to order from Amazon.com
Or call your favorite independent bookstore!
ISBN: 978‑1-4218-3708-6
Distributor: Ingram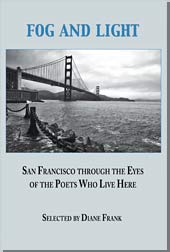 A love letter to San Francisco
Fog and Light: San Francisco through the Eyes of the Poets Who Live Here, selected by Diane Frank. In this collection of poems, we show you the city that most tourists miss. Poems by Lawrence Ferlinghetti, Jack Hirschman, Alejandro Murguía, Barbara Quick, Thomas Centolella, Kathy Evans, Alice Rogoff, Alison Luterman, Daniel J. Langton, Robert Scotellaro, Jane Underwood, and many other celebrated poets.
"It's been almost fifty years since I was in San Francisco, but it all comes back vividly in these poems." ~ Charles Rammelkamp, London
Click to read the rest of Charles' glowing review.
"This collection lingers and holds us with this place's difficulty, delight and dreamlike human, desert and ocean dramas."
Click to read the rest of the Berkeley Times review.
Click here to order from Amazon.com
Or call your favorite independent bookstore! As of 5/2021, local stores that carry Fog and Light include: Bookshop West Portal, Bird and Beckett, City Lights, Blackbird Books, Books Inc., Green Apple Books, Book Passage, Pegasus Books, Dog-Eared Books, Booksmith in the Haight, Florey's in Pacifica, Compass Books at SFO, Mrs. Dalloway's in Berkeley, Great Good Place for Books in Oakland, Orinda Books, Point Reyes Books, Barnes & Noble in Corte Madera, Book Depot in Mill Valley, Copperfield's in San Rafael, and Whyte's Booksmith in San Anselmo. In Oregon, you can order Fog and Light at Bloomsbury Books in Ashland and Powell's in Portland.
ISBN: 978‑1-4218-3689-8
Distributor: Ingram
Blue Light Press has a bestselling anthology...
River of Earth and Sky: Poems for the 21st Century, selected by Diane Frank. More than 100 poets featured, mixing the best voices of our generation with the grass roots – poets who have won the Pulitzer Prize and the National Book Award, along with lesser known poets who also deserve to be read.
#2 bestseller on Amazon for poetry anthologies! #3 bestseller for all American Poetry!

"Congratulations on this fantastic coming together of voices." ~ Jane Hirshfield
"Anywhere I turn to read, masterly and compelling work." ~ Robert Scotellaro
A glowing review by Naomi Lowinsky
Click here to order from Amazon.com