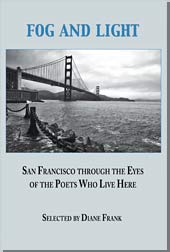 A love letter to San Francisco!
Fog and Light: San Francisco through the Eyes of the Poets Who Live Here, selected by Diane Frank. In this collection of poems, we show you the city that most tourists miss. Poems by Lawrence Ferlinghetti, Jack Hirschman, Alejandro Murguía, Barbara Quick, Thomas Centolella, Kathy Evans, Alice Rogoff, Alison Luterman, Daniel J. Langton, Robert Scotellaro, Jane Underwood, and many other celebrated poets.
"It's been almost fifty years since I was in San Francisco, but it all comes back vividly in these poems." ~ Charles Rammelkamp, London
Click to read the rest of Charles' glowing review.
"This collection lingers and holds us with this place's difficulty, delight and dreamlike human, desert and ocean dramas."
Click to read the rest of the Berkeley Times review.
Click here to order from Amazon.com
Or call your favorite independent bookstore!
ISBN: 978‑1-4218-3689-8

Blue Light Press has a bestselling anthology...
River of Earth and Sky: Poems for the 21st Century, selected by Diane Frank. More than 100 poets featured, mixing the best voices of our generation with the grass roots – poets who have won the Pulitzer Prize and the National Book Award, along with lesser known poets who also deserve to be read.
#2 bestseller on Amazon for poetry anthologies! #3 bestseller for all American Poetry!

"Congratulations on this fantastic coming together of voices." ~ Jane Hirshfield
"Anywhere I turn to read, masterly and compelling work." ~ Robert Scotellaro
A glowing review by Naomi Lowinsky
Click here to order from Amazon.com